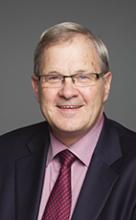 Agriculture and Agrifood Canada
The Honourable Lawrence MacAulay was first elected to the House of Commons in 1988 to represent Cardigan and won his
ninth consecutive election in October 2015. His cabinet appointments have included solicitor general of Canada, minister of Labour, secretary of State (Veterans), and secretary of State.
He has served as the opposition critic for Fisheries and Oceans and Seniors. In addition, he was vice chair of the House of Commons Standing Committee on Fisheries and Oceans.
Mr. MacAulay now proudly serves as Canada's minister of Agriculture and Agri-Food.